Cynthia Friend
President and Acting Director of Physical Sciences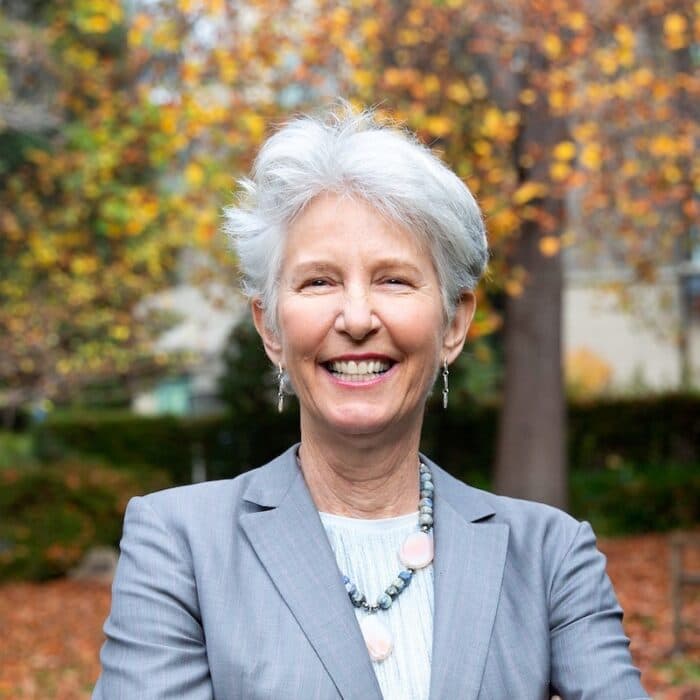 Cynthia M. Friend, Ph.D, is the president of The Kavli Foundation and acting director of physical sciences. Prior to joining the foundation in January 2021, Dr. Friend was a member of the Harvard University faculty since 1982. At Harvard she served in numerous leadership positions, including Chair of the Department of Chemistry and Chemical Biology and Associate Dean of the Faculty of Arts and Sciences. She was the first female chair and the first female professor in chemistry at Harvard. Dr. Friend also served as Director of The Rowland Institute at Harvard from 2013 to 2019, a nonprofit conceived to advance science in a wide variety of fields. She also held the role of Associate Lab Director at SLAC National Accelerator Lab, a preeminent international facility for X-ray science.
As a researcher, Dr. Friend published more than 300 papers. Her research group at Harvard University focused on addressing global challenges in reducing energy costs and in developing alternative energy sources. She was a research advisor for more than 75 graduate students and postdoctoral researchers and also led efforts to change policies in universities and other organizations to promote diversity.
The daughter of World War II veterans, Dr. Friend was born and raised in southern Nebraska. She credits her parents for supporting her curiosity and the space race of the mid-twentieth century in sustaining her interest in science. After graduating high school, she continued her path in science, receiving a bachelor's degree in chemistry at the University of California, Davis, and a Ph.D. in chemistry at the University of California, Berkeley. Her post-doctoral research was conducted at Stanford University.
Dr. Friend serves on the board of directors at Bruker Instruments, a publicly traded company specializing in instrumentation and medical diagnostics, and currently as Chair of the U.S. Department of Energy's Basic Energy Sciences Advisory Committee. This federal committee provides independent advice on complex scientific and technical issues important in management and implementation of basic energy sciences programs.
Dr. Friend is a member elected to the National Academy of Sciences (2019) and is a fellow of the American Academy of Arts and Sciences (2018), American Chemical Society (2010) and the American Association for the Advancement of Science (2009). She has received several awards from the American Chemical Society, including the ACS Award in Surface Chemistry (2017), the George A. Olah Award in Hydrocarbon Chemistry (2009) and the Francis P. Garvan-John M. Olin Garvan Medal (1991).