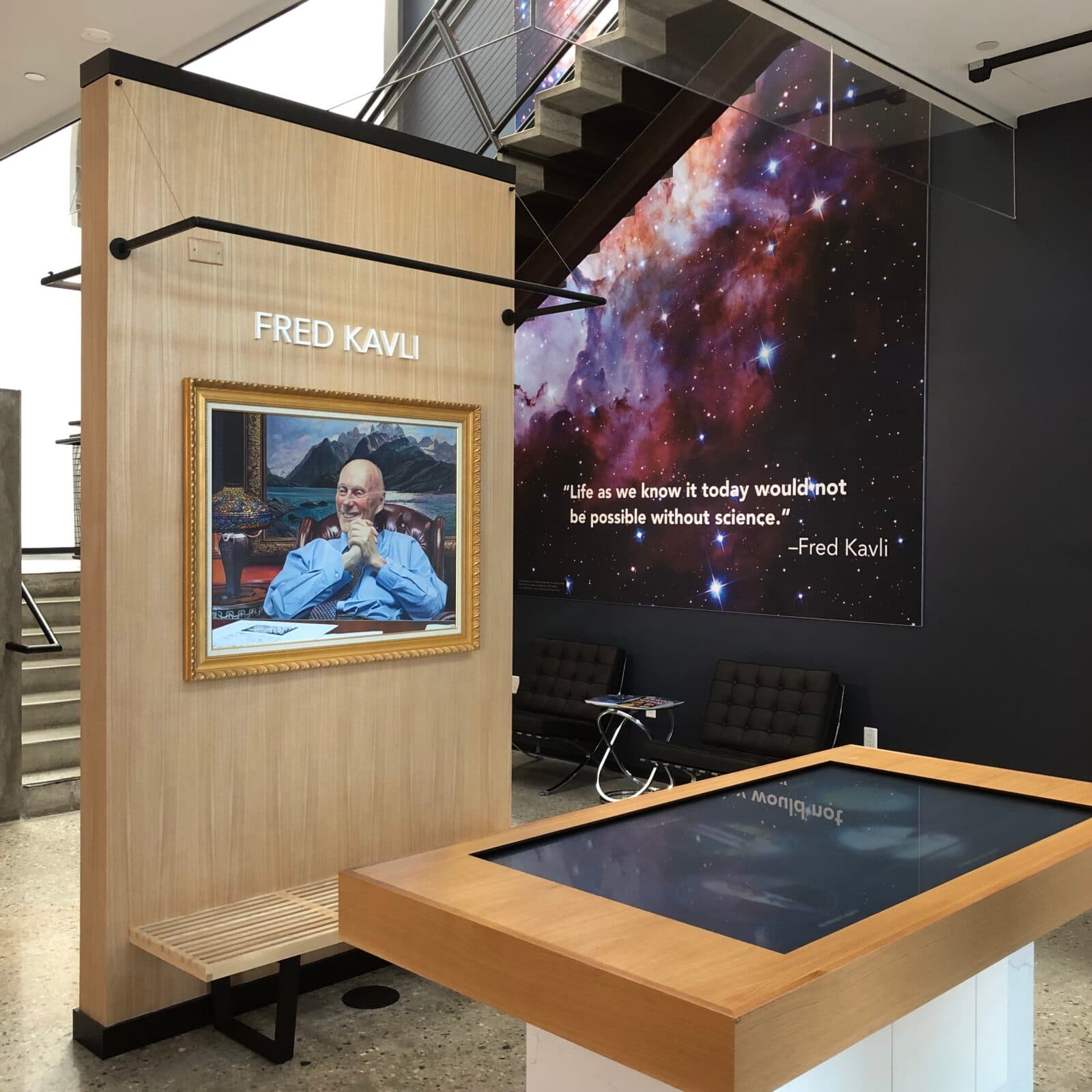 Fred Kavli had a lifelong fascination with science and a sense of wonder for the world around him. Born in 1927, he grew up in Eresfjord, Norway, a village nestled in the mountains along the Eira River. Kavli would later recall how his surroundings ignited his interest in science.
"In those days, I used to ski across the vast white expanses of a quiet and lonely mountaintop. Sometimes the northern lights would dance across the sky and down to the white-clad peaks. During those moments, I pondered the mysteries of the universe, the planet, nature, and of man. And I would never lose that fascination."  
His fascination with science blossomed further while studying physics at the Norwegian Institute of Technology (now known as the Norwegian University of Science and Technology in Trondheim). Fred financed his education, and nurtured his entrepreneurial talents, growing up on the family farm, Kavli Moen Gard. During World War II and the German occupation of Norway, he and his older brother, Aslak, developed a machine to convert wood waste into briquettes that fueled cars, buses and trucks.
Before Fred began his studies at university, he undertook mandatory military service, followed by several months working in a mechanical workshop. The university required all undergraduates to have nine months of experience in a factory and so Fred worked at a foundry, casting molten steel. He completed his studies in 1955, earning a degree in applied physics.
Venturing to America
Immediately following his graduation from university, Fred left for America, with his sights set on California – a place he believed offered great opportunity. Once in California, he had a job offer within a short period of time, agreeing to join Astrolab Testing Corporation, a subsidiary of Crescent Engineering and Research that engaged in development of the Atlas missile – the first intercontinental ballistic missile built for the U.S. Air Force by Convair. At Astrolab, Fred quickly rose to vice president, overseeing design, development and production testing. He was supervising innovation at the very forefront of U.S. space science.
Despite his success at Astrolab, Fred yearned for something more. He wanted to build a successful company of his own. In 1958, he placed a classified advertisement in the Los Angeles Times: "Experienced electronic engineer wants capital to start business for manufacturing of instruments used in missiles."
Fred got his response from Howard Schmidt, who had worked for Convair, a division of General Dynamics. Schmidt was running Vinson Manufacturing making components for aircraft and missiles. He offered to sponsor Fred in a new division supplying feedback transducers to missile manufacturers. Soon after joining, Fred developed the Kavlico transducer and the company, Kavlico, was born. Almost 50 years later, when reflecting on placing that ad, Fred attributed his success to his "Viking courage" and "spirit of adventure in my blood."
Through the 1960s and 1970s, Kavlico enjoyed steady growth. In the 1980s, the company diversified from defense and aerospace to automotive sensors. As Kavlico entered the automotive market, its revenues continued to grow, eventually reaching nearly $200 million annually. Under Fred's leadership, the company would become one of the world's largest suppliers of sensors for aeronautical, automotive and industrial applications with its products found in such landmark projects as the SR-71 Blackbird and the Space Shuttle. Yet, once again, Fred was ready for something more. By the late 1990s, he began thinking about establishing a foundation, something that would give him purpose and benefit society for decades to come. In late 1999, Fred sought a buyer for Kavlico and in 2000 sold his company to Canada's C-MAC Corporation for $345 million. He then turned his focus fully to philanthropy.
In Pursuit of Purpose
Fred studied the hallmarks of the most successful foundations and he consulted with various experts as he considered where his philanthropic endeavors might have the greatest impact. Applying his business sensibilities to identify an underserved market, the opportunity was found in supporting science and specifically basic research – an area that also spoke to Fred personally.
In December 2000, Fred Kavli established The Kavli Foundation with the aim to advance science for the benefit of humanity. With the right support, Fred knew that scientific research could continue to make a difference in people's lives – from the understanding of the universe to the understanding of ourselves. He selected the frontier fields of astrophysics, nanoscience and neuroscience (the big, the small and the complex) because he believed that they would provide the greatest opportunity for major breakthroughs and yet never run out of big questions to answer.
In addition to supporting basic science, one of Fred's earliest ambitions was establishing a prize that honors the best of science on a global level. In 2004, he began conversations with Norway's Ministry of Education to create new research prizes. By 2005, The Kavli Foundation, The Norwegian Ministry of Education and Research, and The Norwegian Academy of Science and Letters formed a partnership and created The Kavli Prize – three one-million-dollar prizes awarded biennially in astrophysics, nanoscience and neuroscience.
Well into his eighties, Fred remained active in the foundation, continuing his daily ritual of rising early to exercise each day and driving to the office. He received many honors for his philanthropic work, including the Royal Norwegian Order of Merit for Outstanding Service and the Carnegie Medal of Philanthropy, which is given biennially to one or more individuals who, like Andrew Carnegie, have dedicated their private wealth to public good, and who have sustained impressive careers as philanthropists.
Upon his death in late 2013, Fred left the remainder of his fortune to the foundation, tripling its endowment. This enabled even more support for the scientific enterprise, including an expanded focus on public engagement with science.
No matter what he did, Norway was never far from Fred's mind. He lies in rest next to his brother, Aslak, in the churchyard in Eresfjord, not far from where Fred's dreams began, under the Norwegian skies.
Fred Kavli Science Center
The family farm and birthplace of Fred Kavli, formerly known as Kavli Moen Gård, is now the Fred Kavli Science Center. Inspired by his values and cultural heritage, the Fred Kavli Science Center's vision is to nurture curiosity and a passion for science in the local, national and international communities, along with fostering awareness of all that Fred Kavli and others from this region of Norway have contributed to society.